Human on wheels goes coasteering with Celtic quest
I gave a shout out for outdoor adventure companies in Pembrokeshire to invite me along to blog about their accessibility.
Within seconds of circulating the email I received an enthusiastic reply from Cleopatra Browne at Celtic quest.  Cleo said. That their accessibility wasn't all bells and whistles but they will make it the best experience possible, her words were:
'Open mind, sense of adventure and some warm clothes for afterwards!!'
I knew I ticked the first two, and got excited about this opportunity which meant that the last didn't register well with me, I quickly learnt my lesson that you need something warmer than shorts and t-shirt for afterwards 🙂
My friend Nia agreed to come with me, even though she admitted on the way down that at first she thought it was orienteering and was happy to follow a map on land, and when I mentioned wetsuits, it got her googling and it got her thoughts active.
High tide was the best time to get into the water, which was at 5pm on our available day.  It was a sunny day, there was a few people chilling on deck chairs down Abereiddy beach, but as we got closer to 5pm the fog came in and the picturesque beach disappeared from sight.
Celtic Quest turned up in their van, full of gear.  We were introduced to the team Cleo, Ed, James, Rob and Jerry, who all made us feel so comfortable from the get go, with their warm and friendly personalities.
Cleo helped me to get changed into the wetsuit, that they provided, and extra dry shirt, gloves, wet boots, trainers and wet coat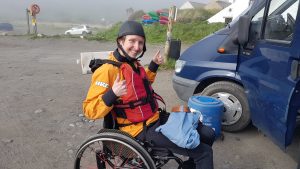 Ed took charge of driving the wheelchair up the hill towards the blue lagoon.  If you have never witnessed this beauty then it's a must.  There is an accessible path that leads to it from the car park, with a couple of steps once you reach the top.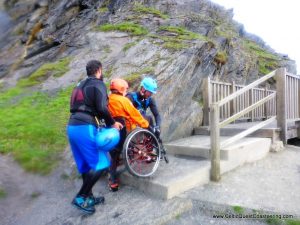 Now it was time to get in the water, I was a bit apprehensive, not sure how cold it would be.  We stopped by the rocks, the guys picked me up and slowly lowered me into the water – yes, it  was pretty cold as the water leaked through the wetsuit.
I held onto a float (and Cleo's shoulder) as she floated me over to the first challenge.  To ease into the feeling of letting yourself go and building trust in the guys and the water, my fist jump/ push was off a small rock.  As the guys lifted me up over the rocks, some heat seeped back through me.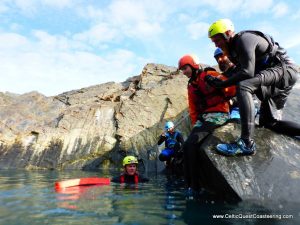 We stayed on this section of rocks for the next two jumps, which we got higher with each. This got my adrenaline going, and confidence raising,  jumping into the sea was becoming less scary with every jump as I became confident with knowing the feeling of hitting the water and knowing that I was in safe hands with Cleo and Ed after I reappeared on the surface.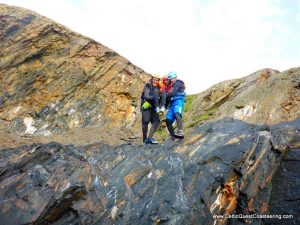 Now that our confidence was up, it was time to cross the logoon to the cliff diving section, where there are different levels to jump from.  Before going up, we practiced how the jump would happen ie how the guys would hold me, one on each side, while the rest of my body would dangle down in a pencil shape.  I needed to fold my arms over my chest, this would ensure the best entrance to the water.
Wow what an experience
Then the guys carefully lifted me up the rocks, onto  the first level and before I knew it I was at the edge ready to jump.  1,2,3… held my nose and flew downward into the water.  Wow what an experience!! 😀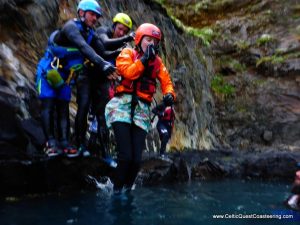 It was Nia's turn, as she had mentioned during the drive down, she guessed that she would be held back by her fearful thoughts.  As she stood at the edge of the cliff, the fear of the unknown took over.  This is the main fear that people have. One of our six needs is certainty, this is mainly the reason we stick with what's familiar in life and the outcome is certain, but we never leave our comfort zone with our focus on this need.
Comfort zone is a beautiful place… but nothing grows there
Another main need is uncertainty, if we reach this need with a good balance, we are able to grow by doing things that we wouldn't usually choose to do.  Cliff jumping certainly enables you to reach that need.  The guys told Nia at the top, that if she didn't jump, she would regret it when she'd be back in the car.  Nia said she wouldn't, this is because when faced with fear (uncertainty) we are happy to take the easy way out, but back in the car it's likely the regret would've kicked in, because that fear would've disappeared.
I was super proud and happy, when she 'felther fears, but did it anyways' 🙂  I know that Nia felt the same, and got the buzz that I experienced, we both wore the biggest smile with a sense of achievement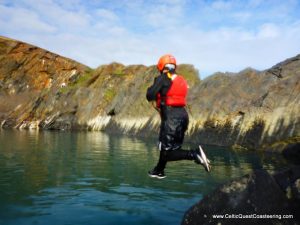 With the right attitude….Anything is possible
A couple of years ago, I kayaked with some friends into the blue lagoon, and I remember sitting in the kayak watching my friends jump off the cliff wishing I could experience their joy.  I'm so grateful to Cleo and her team for making this possible.
I continue to prove that anything is possible, when we have the right tools.  Celtic quest's tools were their amazing attitudes.
Because of this 'can do' attitude I got to experience the thrill that any non disabled people get by choosing to jump off a cliff, into the sea.  I didn't need any specially adapted equipment, which likely would've made my experience different to Nias, all that was needed was the teams enthusiasm and willingness to get their muscles out.  It was obvious that they loved their work, and their main goal was to ensure that we had a great time.
Their humorous, easy going, caring personalities made the whole experience enjoyable.
If you are attracted to try this adventure sport, I'd highly recommend Celtic Quest, I can promise a first class service. Thank you all!!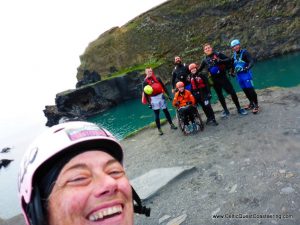 If the descriptions above didn't make you visualise the experience, here's a video I put together, that will bring it alive for you..